Eleven is not just an odd number. It's the master number that tells you to find balance in your life between your body and spirit, between your thoughts and emotions, and between work and leisure. Will the eleventh weekly roundup of logo designs that we find so compelling and creative speak of this balance? Let's see and decide for ourselves.
Gladstone Fleet Maintenance
Based in Queensland, Australia, Gladstone Fleet Maintenance or GFM is a mobile car repairs service. Among others, they help motorists who've been stranded on a deserted highway after their cars broke down or ran out of gas.
Mechanic Logo Design
The design for this company's logo shows a variety of vehicles their on-call mechanics can fix. The logo included a wrench where you would expect to see a tire. This communicates that proper repairs and maintenance keep cars moving on the roads.
Child and Family Psychology
This is a counseling and therapy center that treats children with emotional and mental problems as well as families in conflict.
Psychology Logo 1
The logo design uses the silhouettes of a child, a woman, and a man inside a complete circle to represent that a family will be made whole. Each one is facing the same direction to signify a cohesive vision. Them looking up and to the right subtly communicates a bright future they await.
Psychology Logo 2
This logo design is an abstract representation of the clients that the Child and Family Psychology center treats. The figure on the left is the same size as the figure on the right. The size communicates that there is no more greater importance in the role of one parent over the other.  Also, this family unit of three now forms the Greek letter
Psi
, which is also the globally recognized symbol for Psychology. We 
really
like this logo!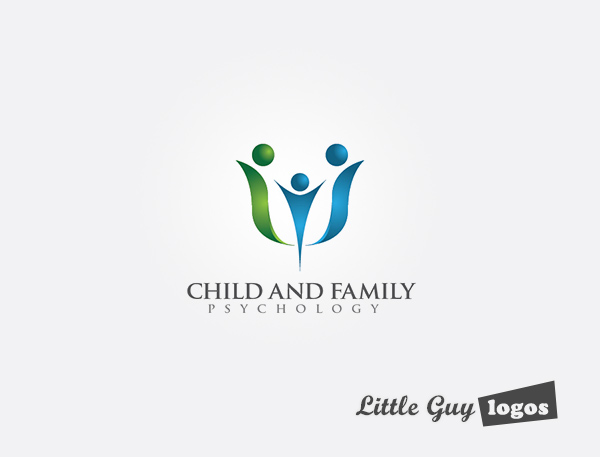 Chicago Blog Accelerator
Also known by its acronym CBA, this group of Chicago business owners, digital media, and local bloggers was formed as a collaboration between the business community and the more progressive members of print and digital media. Aside from collaboration, the group also finds ways to raise funds for their projects and to give their members avenues to earn more income.
Small Business Logo
In reference to the word accelerator, a C-shaped meter is placed before "Chicago" in the logo design. The letter C of Chicago is stylized to look like the red and orange meter accelerating to maximum.
Small Business Logo 2
Meanwhile in this design acceleration is depicted with what looks like a gradual and then a steeper launch/rise of the "A" rocket. That tips is the focal point of this design and because the arrow suggests the direction, you can't help but think that it will continue to rise, and rise, and rise!
Small Business Logo 3
In this variation of the CBA logo design, the last two letters spell out "
go
". They are a different color and the message is almost a command, or a call to action.  They are positioned strategically on top of what looks like a double talk-bubble. The message is clear on this one – there is collaboration that will make things happen! The collaboration is between businesses and digital journalists and is meant to ignite the kind of conversations in social media and the blogosphere that will create income-generating opportunities for the bloggers.