How was your week, folks? It's been a busy one for all of us here at Little Guy Logos, and we've got a nice set of logo designs for our 14th weekly roundup. So, which of these beauties do you like?
NHG Pty Ltd
NHG is an IT systems company that provides consultation and does contractual work mostly in the areas of Radiation Oncology (i.e. cancer treatment using radiation-emitting devices), aviation and general business.
Cancer Imaging Clinic Logo
The design makes use of the globally recognized cancer symbol – the ribbon. It was originally in pink and first used as a symbol for breast cancer. The three arcs in orange, gray and blue represent digital imaging for medical purposes. The ribbon has a double meaning – it's also a person. And with his hands in the air, the person is rejoicing, because he is protected from cancer by the NHG's technology.
MaskCraft Leather Art
MaskCraft
 –  an online Etsy shop, makes custom leather creations such as moleskin covers and pocket pendants.
Leather Craft Logo
The logo design makes use of a tanned hide as background for the company name. The stitching, and color makes it look like it's leather that's being worked on. This design also looks great in a single-color, which makes it more versatile for our client to use. It can just as easily be burned or stamped into their leather works, as it can be displayed digitally.
Leather Craft Logo 2
In this variation of the Mask Craft logo, the design is in the shape of a medallion while the color remains a dull shade of brown with hints of pink. Two mallets form a cross above the stylized text. Maybe surprisingly, those are necessary tools for leather works.
Lacey McCutchen
Lacey is an experienced wildlife veterinary nurse. She has traveled to many parts of the world where her expertise were needed, and she wanted a logo design for her personal blog.
Veterinary Blog Logo Design
This custom logo design represents the kind of work that Lacey McCutcheon does for nature and wildlife reserves. The blue background has silhouette figures of wild animals, like the elephant, giraffe and lion. It suggests exotic places, as opposed to the environment you would think of, if you were to see images of domesticated or farm animals. The blue represents the sky, and the green represents the ground. The slight curve, besides being making the logo friendlier, also suggests traveling across the world.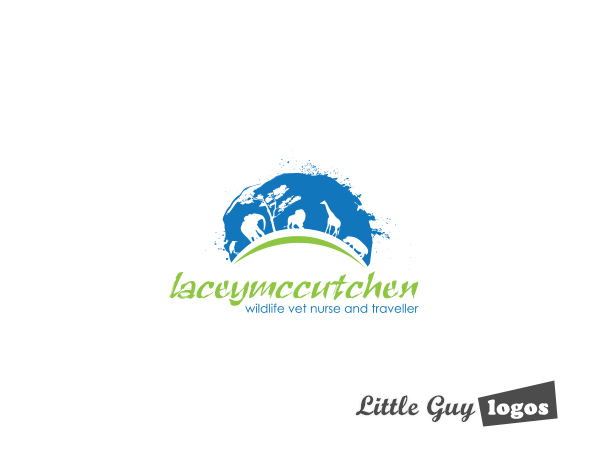 Veterinary Blog Logo 2
In this design for
Lacey McCutchen
, a suitcase is used to communicate travel, while the silhouetted figures of wild animals on it again suggest the exotic destinations.