For the 21st weekly roundup of logos, these designs have been selected because of their vibrant and charismatic looks.
Ateliers Arts and Crafts
Ateliers is an arts and crafts store that not only sells supplies to artists of all ages, but also offers classes in painting and scrapbooking.
Arts Supply Logo
The logo design uses a hand and several tiny squares of different colors to represent the artistic wonders that children and adults can see and learn to do from Ateliers. The colors and the hand suggest craft and and hands-on experience. The empty squares communicate that whatever missing element a client is looking for, they will find it at Ateliers.
Arts Supply Logo 2
In this design 0f the Ateliers logo, the letter A is drawn inside a dark round shape. The image looks like it's drawn using a pastel crayon or a charcoal pencil. It's a letter/icon type mark, but its style suggests something that's painted or sketched.
Erini
Erini is a tech channel commenting on the latest technologies and trends in the IT industry. They offer their fans an online option to watch and learn all about the latest tech. The company produces original series of videos and broadcast them via the Internet.
Web Series Channel Logo
This design for the Erini logo is in the shape of a light green button that seems to levitate off the ground.  The shape is abstract but in some way it still resembles CRT monitor.
Option Plumbing and Heating
Option is a service provider of plumbing and heating needs of their customers. Their licensed plumbers and heating technicians take care of repairs and installations for their clients.
Plumbing Logo Design
This design for the Option logo features a burning flame and a drop of water in front of it. the shapes are very similar and create a cool effect. This drop/flame is surrounded by a round network of pipes. The closed network signifies that there are no leaks, and that that the system of gas and water is completely enclosed. The pipe's joints are also designed in such a way as to suggest a stove top. So not only is plumbing represented in the logo, gas (via a cook top) is represented as well. We love this mark!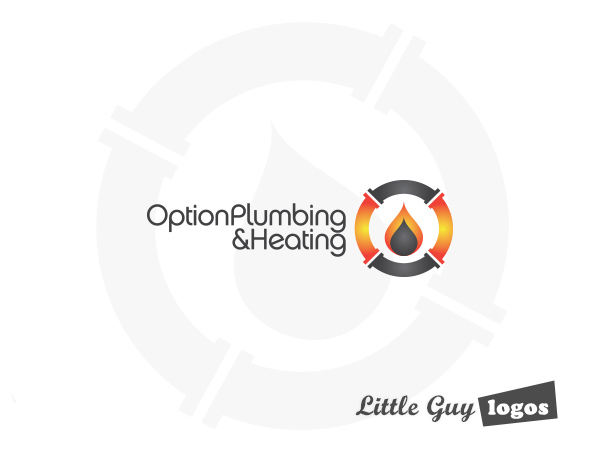 Hometown Window Cleaning
Hometown Window Cleaning knows its way around windows of various styles and shapes. Their window cleaners can remove water stains, oily grime, snow, and other debris from any type of window.
Window Cleaning Company Logo
In this design for Hometown's logo, the image is made up of four window panes colored in with teal and framed in black. The black lines form a floral decoration with four square petals, suggesting a natural clean.
Window Cleaning Company Logo 2
In this variation of the Hometown logo, the clear window panes are framed with light blue lines and in the center you can see a ray of light reflected. As you guessed, this communicates the crystal clean surface of the windows. This logo design is clean and simple, and communicates what the company is all about within the first few seconds.