I can't believe we've reached a quarter to a hundred weeks of selecting those logo designs that caught our imagination! For this 25th weekly roundup of logos, we're presenting you with five remarkable designs which we think are simply stunning. Three of these works are for a clothing company and the other two logos are for a restaurant that serves authentic stone-oven pizza.
Unity Custom Apparel
Based in Christchurch, New Zealand,
Unity Custom Apparel
is a small enterprise founded by two aspiring young men who've been participating in the Young Enterprise Scheme for a business class in Middleton Grange School. The company makes t-shirts, hoodies, jackets and other pieces of clothing that are screenprinted or embroidered with their clients' personal artwork, logo designs, school emblems, and names of companies, school organizations, or sports teams.
Clothing Company Logo
The company's trademarked business name is prominently displayed in this logo design. This simple one-word logo is easily read and recognized by the company's customers. They typography is fresh and cool, representative of their clothing line.
Clothing Company Logo 2
In this variation of the Unity logo design,  the stylized letter U in golden yellow makes a lasting impression on the company's customers. The "U" again is stylized to look cool. It has more symmetry than the other design, but it can easily be used as a mark in its own right. Meanwhile a star in the "i" turns the text into a design that too can be used on its own.
Clothing Company Logo 3
This was both our and our client's favorite design. Here we have the full company name – Unity Custom Apparel. The logo features the silhouettes of two muscular men pushing against each side of the dark letter "U". They are just about to combine it into one single shape – thus representing the concept inherent in the company name. The mark is elegant and has something that makes you immediately think of the established fashion giants like Ralph Lauren or Yves Saint Laurent.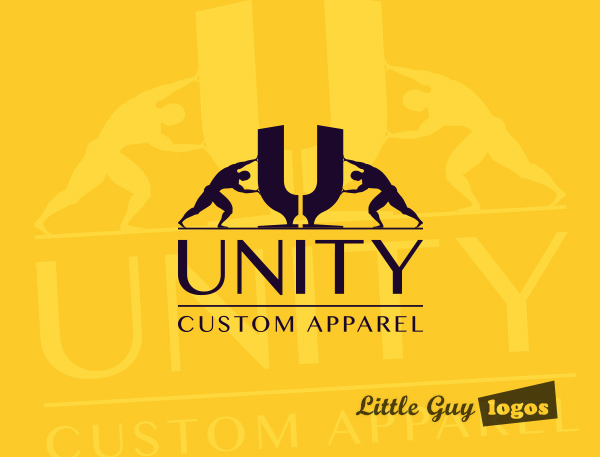 Rustico Italiano Pizzeria
Rustico Italiano Pizzeria
creates their artisan-style pizzas from authentic Italian recipes. The pizzas are hand-tossed and baked in a stone oven that burns aromatic chopped wood rather than gas or coal.
Restaurant Logo 1
This logo design for Rustico Italiano Pizzeria features a large stone oven that's traditionally used to bake pizzas. The design was painted in red, green and yellow – three major colors strongly associated with Italian restaurants. The flames dance inside the oven and the pizza looks like it's just about to be ready. Overall it's a very inviting design that's meant to make Rustico's customers drool 🙂
Restaurant Pizzeria Logo 2
This logo design looks classy despite its simplicity. The logo prominently displays a steaming large plate of pizza that's been sliced into eight parts. A slice is set slightly apart from the plate as if an invisible hand was in the act of pulling it up. The style of the design can be described as rustic, which is just a play on the company name.
Hip Hop Lead
Hip-Hop Lead
is a website magazine dedicated to giving you the latest news when it comes to rap and RnB music. They showcase rap videos and also have feature sections with free mixtapes from various artists.
Magazine Logo 1
The aim here was to stay fresh and minimalistic with the design. The logo is just an acronym for HHL and the letters are only suggested. The design is simple and unique. It also looks great on merchandize.