It's time again to take a look back at what the week has brought us. In this weekly roundup of logos, we're introduced to a myriad of great companies and great logos.
Equilibrium Kinesiology
This is a custom design for a logo for a kinesiology and massage therapy clinic.
Massage Therapist Logo
The bamboo shoots and the three stones stacked one on top of the other represent the balance and serenity of the body and mind. The color green symbolizes harmony while dark gray keeps it anchored to the earth.
Eatery SEO
An SEO marketing company had this logo designed to represent its menu of services for restaurants, diners, and cafes looking for affordable website marketing and optimization packages.
SEO Marketing Logo
The logo itself features a simple setting on a dining table. However, instead of a dinner plate we've got a magnifying glass representing "search" and rising arrow inside it depicting the growth of the company's standing in the Search Engine Results Pages (SERP). Meanwhile, the utensils that flank the magnifying glass remind us that Eatery SEO's clients are primarily restaurateurs. And if you're a restaurateur, you should check them out here: 
eateryseo.com
One Dot World
OneDotWorld.com
gets you closer to those cool places you always wanted to explore. Book your trip with them and go on that trip you've been planning for ages now!
Travel Company Logo 1
The logo features a globe with a small plane circling it, and maybe even going way out into space. One Dot World is all about taking you on out-of-this-world trips so this visual allegory is perfect for communicating their exceptional trips.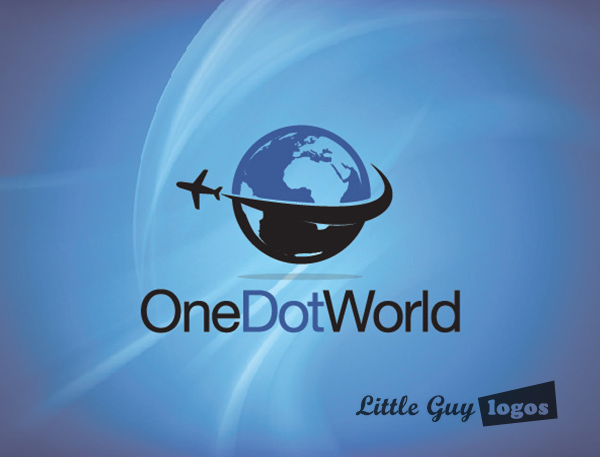 Travel Company Logo 2
This wordmark design features the globe and the compass rose. The compass, being a navigation device immediately makes the viewer think of a destination, while the globe is there to show that the trips are not limited to any one continent, but rather the entire world.
NQ Vets Mobile
The following logos were created for a mobile veterinary clinic out in Australia. Our client chose a design we didn't show off here. Our favorites were these:
Vet Logo Design
This logo design has an abstract blue design that's shaped like the silhouette of a dog's head in profile. The color is meant to represent a cool, calm treatment of animals during emergencies. The color is associated with dependability and we thought that would be perfect for a pet doctor. Meanwhile the treatment is modern, and when it comes to medicine, new information is better than old information.
Veterinarian Logo 2
The second logo we wanted to share with you features the silhouettes of the two most common household pets in its design. The choice of colors are meant to signify the cool and professional manner that these beloved pets are treated for medical problems and other emergencies. Meanwhile their gaze is directed at the company name in anticipation of the relief that this good vet will bring.