Saturdays are the most anticipated days of the week here at Little Guy Logos. Wanna know why? Because it's when we announce our lineup of the most beautiful logo designs of the week. And so, we're excited to show you the logos we've found worthy of admiration.
The Homestead
The Homestead is a horse training, breaking and boarding facility in Western Australia. The property has acreage for pasturage, dressage area, wash down bay, and spacious arenas for jumping and flat work.
Horse Training Logo
The design for The Homestead logo uses the side profile of a horse as its symbol. The image is colored in with red and blue, and lighting effects were added to highlight the medallion-like design from above. We focused on the qualities best known for horses; beauty, speed and power. When you look at this logo you can clearly visualize a strong powerful animal with semi – clear muscular lines and with it's hair waving back in speed.
Horse Training Logo 2
This logo design for a horse training and boarding facility in Australia has an outline of a horse as its featured image. There's a gracefulness to the way this horse is posed with its long mane flowing in the wind behind it.
OHS Works
OHS Works
is a Workplace Health and Safety Consultancy in Cairns, Australia. The consultancy provides general information, documentation, and support services to local businesses.
Marketing Logo 1
The design for this safety consultation logo is simple, and clever. A silhouette figure of a man in a suit holds a safety pylon that doubles as a megaphone. He is consulting on the proper safety procedures and processes, giving fair warning to employees about the health and safety hazards they're likely to encounter in their line of work.
Marketing Logo 2
This version of the OHS Works logo resembles the spray-painted signs typically found at construction sites. They style should resonate with OHS's clientele. The red background of the stylized text is one that captures attention and communicates that people should be on alert for danger – a strong message of safety.
The Dashing Dog Groomer
The Dashing Dog Groomer
is a mobile pet grooming service that visits the client's home to give their beloved pet a thorough cleaning and grooming.
Pet Grooming Logo
This logo design for a pet grooming service aptly features an elegant cat and a dog dressed in tuxedos with red bow ties. It's a testament to the dashing and elegant appearance of the animals after their grooming session.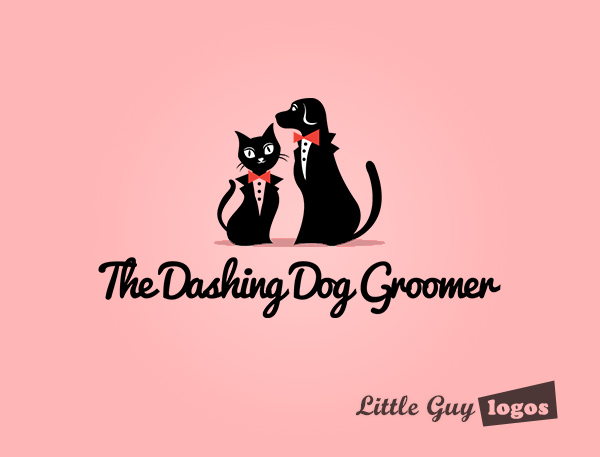 Pet Grooming Service Logo
In this logo design for a mobile pet groomer, a white cat and its canine friend are seen driving around in class. That's done to communicate the mobile grooming services that the business offers.
The logo was inspired by the following scene from To Catch a Thief: