The Arctic winds b-r-r-r-ing with them a sharply biting chill that keeps us wide awake and on our toes this wonderful wintry morning! And so… We decided to stay indoors this weekend and keep our almost freezing toes warm and dandy in a pair of fuzzy bunny slippers. The big, red X on the calendar marks today's post as the 47th Saturday lineup of logo designs, which cover a wide array of concepts from straightforward to symbolic.
Ancient City Firearms
Ancient City sells a variety of handguns, rifles, and high-powered firearms as well as different types of ammunition and related merchandise, such as scopes, vests and holsters. This gun store also has an outdoor shooting range where customers undergo tactical training and develop their sharpshooting skills.
Firearms and Shooting Range Logo
This logo for a firearms and tactical supplies retailer uses an American bald eagle as its insignia. The eagle represents courage in battle, victory over one's enemies, and the sharp senses of a true hunter or huntress. In this design, the eagle's widespread wings are shaped like two automatic pistols that share a single magazine (the eagle's tail).
Grinder Coffee Bar
As a coffee bar, Grinder serves many kinds of coffee (hot or iced), herbal teas, and fruit-flavored teas. This place also serves coffees fortified with spirits and keeps an interesting cellar of good to excellent wines.
Coffee Bar Logo
The logo plays around the coffee grinder tool, which replaces the lowercase "i" in Grinder. The grinder and coffee beans have the same color as the text for 'coffee bar' for cohesiveness between the company name and the description. All in all, it's a simple logo design for a new hangout – a cafe and bar in one.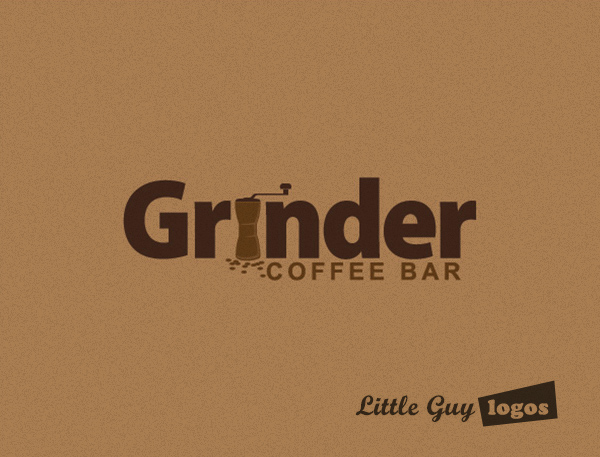 DigiShpun Publishing
DigiShpun is a digital publishing company that owns and operates several online magazines and blogs.
Publishing Company Logo
This logo design for a publishing company is a cleverly put-together wordmark. The text has two colors: gray and blue. The areas filled with blue follow the scalloped outline of an open book. Meanwhile, the gray text of 'Publishing' at the bottom right unites the whole logo with the irregular gray areas on the upper parts of the stylized text.
Publishing House Logo 2
This is a black-and-white version of the DigiShpun Publishing logo. The company is divided into two parts: the white 'Digi' and the black 'Shpun'. As a digital publisher, the company is responsible for increasing the popularity and readership of several online magazines and professional blogs. The content these virtual publications covers many topics and produce a "digitally spun" network, so to speak.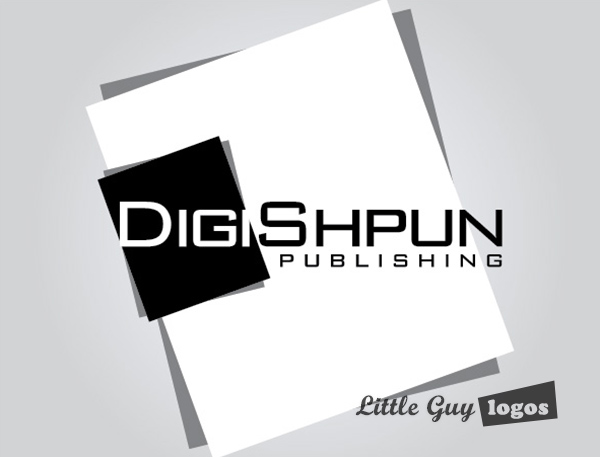 Wishkah Valley Loggerettes
The
Wishkah Valley Loggerettes
is an all-female high school basketball team from the Wishkah Valley School District, located 12 miles north of Aberdeen WA, on the picturesque Olympic Peninsula.
Sports Team Logo
The sports team logo for the Loggerettes shows this basketball team's quirky side. Standing at the right of the text logo is a cartoon image of a honey-blond girl in her basketball shorts and jersey. She carries an orange basketball under her left arm and hefts up a mean-looking axe over her right shoulder. The axe means one thing: the girls are ready to chop down anyone who gets in their way towards victory.